Hey, hey! How are ya? I hope all my Eastern U.S. readers are safe and sound. What a storm! My thoughts and prayers are with you.
I recently received the new Ballard Designs catalog. Wow...if I was rich I would own one of just about everything in there! But I'm not...rich, that is. I saw this cool magnet board...for $69! Huh? Are you kidding me?!
I decided I could make one myself...mine cost more like $5. That's right, you didn't read that wrong...5 bucks. You can see a framed magnet board I did for my daughter's room
HERE
. I had a piece of sheet metal left over from that project...I had paid $6 for the whole sheet. The ribbon was $1.97 for a whole roll at good ole' Walmart and I got the burlap there as well for $2.97 for a yard. I still have a bunch of ribbon and burlap left over for a future project...yay!
I gave the sheet metal a quick coat of beige spray paint just so the shiny metal would not show through the burlap. I had my husband drill the holes in the sheet metal...I don't do power tools. I sprayed the front of the sheet metal (the side I had painted) with spray adhesive to help hold the burlap in place.
I then turned it over and ran a bead of hot glue along each edge, one at a time, carefully pulling the burlap tight and wrapping it around the corners like a present...super easy!
I decided to do a fleur de lis design. I thought about using paint to stencil my design but I decided to try a permanent marker instead, which worked great! No clean up and no mess...my kind of project!
Here is the final result. Remember that I saved $64 by making this myself. That's
almost
a week's worth of gas in my minivan...thanks to $3-plus a gallon gas.
I hung it right inside the garage door and it looks so cute there! That sweet baby in the picture is my little niece...isn't she a doll?
I'm thinking this would make great Christmas gifts! What do you think? Do you like to give and receive hand crafted gifts?
Take Care,
Amy
I'm partyin' here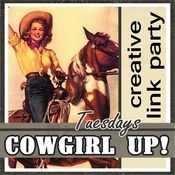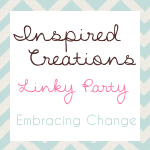 Positively Splendid
You Are Talking Too Much